About WBL GOES VIRTUAL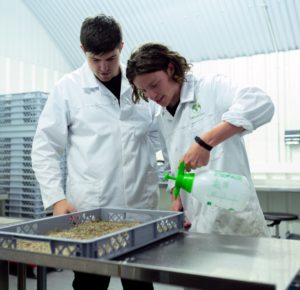 Work-Based Learning (WBL) is an essential part of Vocational Education and Training (VET) all over Europe, especially in the initial training circle (iVET). When young people enhance their theoretical know-how by working in a real life environment through a placement in a company or even a long-term apprenticeship, they gain valuable insights in their profession.
When the COVID-19 pandemic hit, this usually well-running system was shaken to the core as companies had to close down and reduce their in-person contacts to the absolute minimum and bare necessities. Consequently, work-based learning processes in Europe came to a sudden stop. While schools managed to transit to virtual learning more or less successfully, the VET and WBL learners fell through the rack and were forgotten by decision makers.
Left on their own, WBL mentors had to be creative and find quick solutions to keep their training alive and to stay in contact with their learners. However, many of these responsible persons are not pedagogically trained and have limited didactic know-how. This is where the WBL GOES VIRTUAL project comes in.
WBL GOES VIRTUAL supports mentors in work-based learning in making their training digitally available for their learners.
The European Commission detected the need of supporting teachers and trainers in fining new ways to digitalise their learning content and launched an extraordinary call for Erasmus+ proposals in autumn 2020 to co-fund projects that cater to this immediate demand. Five partner organisations from 4 EU countries accepted the challenge and formed the WBL GOES VIRTUAL partnership. The project was kicked-off in May 2021 and is embedded in a well-established project series under the lead of the coordinator Auxilium: ECVETgoesBusiness(2015-2017), WBL Accelerator (2018-2021), WBL-Q (2020-2022). Stay up-to-date with our development and find out more here!
Partnership
Coordinator
Verein Auxilium
Geidorfplatz 2
8010 Graz
AUSTRIA
Wirtschaftskammer Steiermark
Körblergasse 111-113
8021 Graz
AUSTRIA
IHK-Projektgesellschaft mbH
Puschkinstraße 12B
15236 Frankfurt (Oder)
GERMANY
Chamber of Commerce and Industry of Slovenia
Dimiceva 13
1504 Ljubljana
SLOVENIA
Fondo Formacion Euskadi
Carreteria San Vincente KM 10
48510
SPAIN